Online commenters have told a job applicant to be wary of the "sketchy" email she received from a purported hiring manager wanting to schedule an interview "immediately."
The applicant, u/ayyojosh, shared a screenshot of the email in Reddit's "Antiwork" forum, writing: "I'm in the middle of class and received this email. is it worth leaving rn and taking the interview? I kinda [really] need the money." The post has garnered nearly 17,000 upvotes and thousands of comments from skeptical Redditors who believe the "job opportunity" is likely a scam. You can read the full post here.
Employment Scam Emails
According to St John's University, advances in technology have made it "easier and more lucrative" for scammers to "pose as potential employers."
"Cyber criminals fabricate job opportunities that seem real by spoofing the websites of legitimate companies and the emails of real people," the university explained. "Thousands of people report being a victim to employment scams each year and the damages can be significant."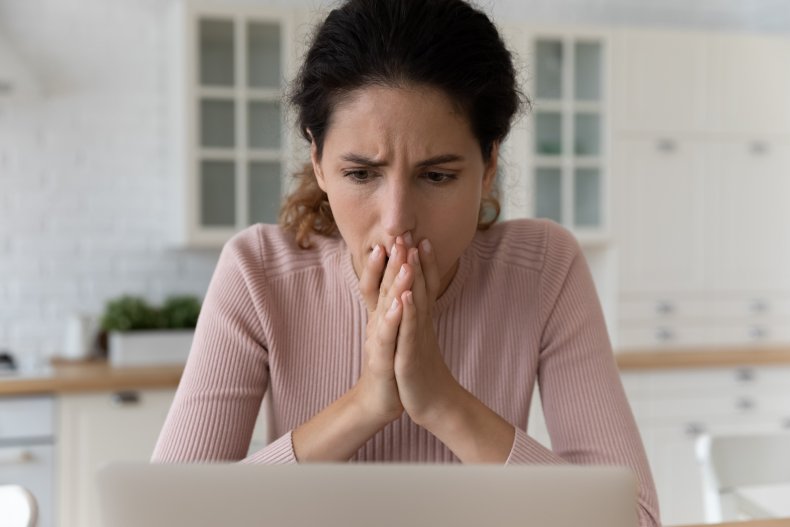 The university said there are several warning signs that a job offer or employment email is fraudulent, including:
The sender's email address is not affiliated with a company;
The position offers high pay but requires little work;
The email contains grammatical errors, misspelled words and/or uses all-caps;
The job description is not specific;
Information about the company is difficult to find; and
The sender asks for confidential information
Before replying to a prospective hiring manager, job seekers should do their research on the company contacting them, St. John's University advised. And job seekers should refrain from sending private or financial information to unknown contacts.
Unfortunately, the email u/ayyojosh received exhibited some of these warning signs.
'Antiwork'
"Good Day!! We have reviewed your resume and we would love to discuss the position further," the email began. "We think you will be a good fit for the Remote [redacted] at [redacted]. This position is paying $29.95 Per [sic] hour."
The position's purported benefits include medical and dental insurance, long-term disability and "profit sharing," among other things.
"We would like to schedule an interview with you right now if possible," the email continued, adding that u/ayyojosh is required to set up a Gmail account.
"Please Invite [sic] [redacted], the Recruitment Manager for [redacted] on Google Chat by typing the email or copying and pasting it to the search box…She will be expecting to hear from you soon," the email stated. "INTERVIEW TIME: IMMEDIATELY YOU [SIC] RECEIVE THIS EMAIL."
Redditors React
Redditors said the email sounded "scammy" and warned u/ayyojosh against answering.
"This is sketchy," u/mltrout715 commented.
"Can't imagine any business emailing you asking you to interview immediately you get the email? How do they even know when you will actually open it and read it? Are they just [sitting] around all day waiting for candidates to connect? Sounds like a scam to me," u/maw198 wrote.
"I'm surprised they didn't ask for your bank details to get your direct deposit set up for you before the interview," joked u/AtheistBibleScholar.
u/Fun-Significance4650 added: "This sounds scammy. The wage. The benefits. Almost seems too good to be true."
Newsweek has reached out to u/ayyojosh for comment.
'Antiwork'ers
A pizza restaurant employee took to "Antiwork" on Tuesday to share a picture of a "morbid" work sign telling employees that their recently deceased co-worker wouldn't complain about stress.
On Monday, a job candidate said they were doxxed by a potential employer following an interview.
And last week, an employer was bashed for their "toxic" response to an employee's resignation.